Custom Business Signs
Advertise Your Business With Custom Printed Signs
As a business owner, you know how important it is to get your business' name to potential customers. Let us help! Using SignsOnTheCheap will open up the ability to fully customize advertising signs to your needs. From a design tool that allows you to create a sign you're proud of, to a variety of material and display options, we have it all!
There are many things to consider when investing in advertising for your business. Take a moment to review the value adds that purchasing from SignsOnTheCheap can offer:
Buy More Signs, Save More Money!
When it comes to advertising, the more visibility the better! Signs of the same design, material, and options will be considered for a quantity discount in your cart. You can check out a full pricing grid HERE [Insert link to SOTC Pricing Grid]. If you buy more, you'll save more per sign! We almost always have a promotion running on our website to extend even further savings to our customers!
Make Custom Signs To Fit Your Vision
Ensuring that your business has a vision for branding is an important part of establishing yourself within your industry niche. Our custom design tool allows you to maintain your brand integrity on all fronts! If you already have a design that was created and is print ready, our design tool will allow you to easily upload and print with us! Or, perhaps you have a logo but need to design the rest of the sign? Our design tool can help there too, just upload your logo to our designer and leverage our custom text and clipart options to complete your design. Even if you are just starting out, and are unsure of a design, check out our many business sign templates to get the creative juices flowing!
Choose The Delivery Option You Need
At SignsOnTheCheap, our goal is to produce our customers' signage as quickly as possible. This quick production time can be paired with a variety of shipping option to ensure you have your signs when you need them. In checkout, you will see a variety of shipping options, and can choose the option that guarantees delivery by the date you need. The most economical option is Ground shipping, but we do offer all the way up to Next Day Air shipment for those projects with a tight deadline! Make sure to check the "Get it By" date next to the shipping method of your choice and ensure it matches your timeline.
Quality Signs for Outdoor or Indoor Use
We have several material options available to fit the intended use of your sign! We make sure to source premium quality materials, so whatever signage you choose, we expect it to serve you well for a long time! If you are looking for outdoor signs, our corrugated plastic signage provides a lightweight and less expensive option. The aluminum signage we offer is extremely durable with a sleek professional look and will last a long time with continued outdoor use. If you're looking for indoor signage, check out our PVC material which can easily help spread your message in indoor settings. Regardless of what material you choose, all our signs are printed with UV inks to help keep their colors vibrant even in direct sunlight.
Installation and Care
Display Options For Your Business Signs
SignsOnTheCheap is your one stop shop for signs as well as the accessories needed to display them. We have several display options available, and one is sure to fit your vision!
Wire stakes are an economical option for displaying any corrugated plastic sign outside. No tools are required for assembly, just slip the wire stake into the fluting of your plastic sign and press the sake into the earth!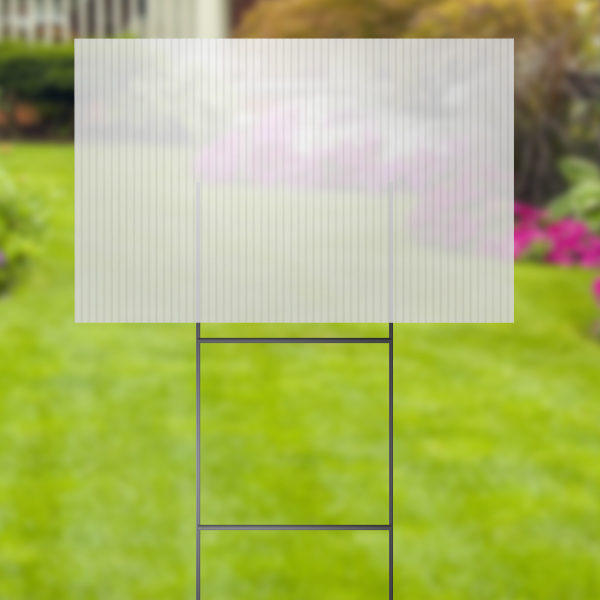 For an upscaled display that is compatible with corrugated plastic and aluminum, check out our metal frames! These sturdy frames allow a sign to be slid into the display area. Signs can also optionally be bolted into frames for extra security and stability. Our frames are a great option for displaying a sign outdoors long term!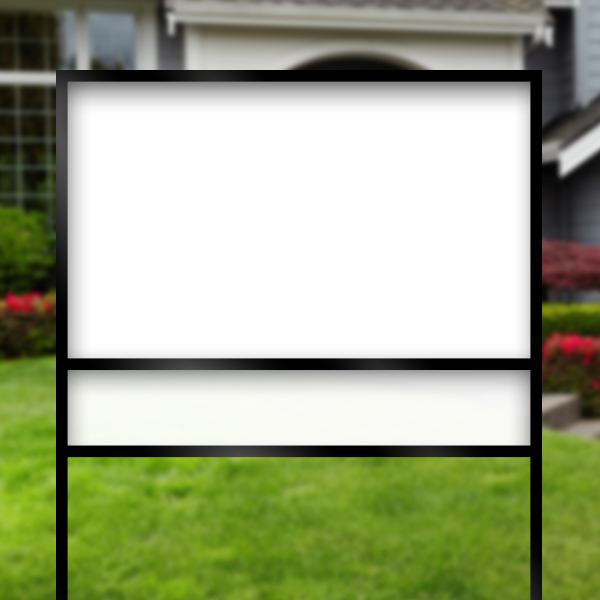 We also have a variety of posts available for purchase. While these are typically used by Realtors to advertise a property for sale, these professional posts may work for your need too! Posts require more assembly than our stakes and frames, with signs hanging below the arm of the post, but we have assembly instructions available and are happy to speak with you over the phone if you encounter any assembly issues!
Colonial Post

 

Straight Arm Post

 
Caring For Your Sign
As busy as running a business is, complex cleaning of your signs doesn't have to be a worry! Most of our signs require little to no maintenance over their lifespan. We recommend cleaning your signage with lukewarm water and a non-abrasive cloth. No need for soaps or chemicals to clean your sign, as they could damage the finish or printing.
Business Sign Materials
Aluminum
SignsOnTheCheap offers two thicknesses of aluminum: 0.040 and 0.063. Our 0.040 aluminum is about as thick as a dime, and our 0.063 aluminum is a great option for those looking or extreme durability and rigidity. All of our aluminum is powder coated with a white finish before being sent of to print. The powder coating and innate properties of aluminum help resist rusting over the lifetime of the sign. Aluminum signs are printed using a digital print process and UV inks. Our print process results in a sign with great quality and resistance to fading, even in direct sunlight! Our aluminum business signs are ready for use either indoors or outdoors!
Corrugated Plastic
4mm Corrugated plastic is a popular sign material choice with our customers! It is lightweight, and a great economical option for outdoor advertising. Due to their price point, you will frequently see corrugated plastic signs used during political campaigns and for other temporary advertising efforts. These signs are easy to display using our wire stakes or metal frames, and are expected to last about a year with normal use. Corrugated plastic signs are printed with UV inks that help prevent fading so your signs stay vibrant after time in the sun.
PVC
Our 3mm thick PVC is sleek and professional option for any of your indoor business signage needs. While PVC is not recommended for outdoor use, it looks great and can enjoy a long lifespan when displayed indoors. While it cannot be used with a wire stake, these signs can be displayed on a properly sized easel.