Custom Real Estate Signs
Increase Your Real Estate Success With Custom Signs
Real Estate is a competitive and fast paced industry in which brands and agencies vye for the attention of both sellers and buyers. Branding and marketing is key, and having the best looking real estate yard signs on the block can ensure you catch peoples' attention.
SignsOnTheCheap strives to make it easy to create marketing material that is exciting and engaging while meeting your brand standards. Get to the next level above your competition using our custom real estate signs! Our quality materials at competitive price points will ensure you have the best signage while not breaking the bank.
About our Real Estate Signs
As a real estate professional, you have a vision for your branding, marketing, and signage. We can help make sure your vision becomes a reality by providing quality signs that speak to your target buyers. Quality signage will boost a listings curb appeal while showing customers you are invested in your marketing efforts.
We know there are many options out there when it comes to signage, but here are some of the benefits you'll gain when purchasing from SignsOnTheCheap:
Fade and Weather Resistant Material
Come snow, wind, rain, or sun, our signs are made to endure the typical weather any outdoor signage might encounter. We print using a UV resistant ink that will help reduce fading from the sun over time. Our aluminum signage is inherently rust resistant but remains sleek and professional thanks to being coated in white before we print your design on it.
Outdoor-Ready High Quality Signs
All of our sign materials are selected with durability in mind. We source the best quality materials out there so you can be confident your investment will stand up to many rounds of use. Depending on your brand vision, goals, and sign usage, we have a material that will fit the bill. Our corrugated plastic signs are great for temporary uses; perhaps advertising an open house or as rider calling out a special feature specific to a listing. If you are looking for a long lasting sign, our 0.040 aluminum signage will give an elevated professional look while providing increased durability for extended use. 0.040 aluminum is about the thickness of a dime, but we also have the option to upgrade to our even thicker 0.063 aluminum for an even sturdier sign option. Another option to consider is our reflective aluminum that will provide extra visibility during evening and nighttime hours.
Single and Double Sided Options
While designing your sign, you have the option to select either single (printing on one side, the other side blank) or double sided (printing on both sides).
We almost always recommend double sided signs for our real estate customers for maximum visibility and display options. While double sided signs are more expensive, the investment will be well worth it, and opens up a wide variety of accessories that will ensure your advertising is seen from all sides. Our metal frames and posts are optimized for use with double sided signs!
Single sided signs can be useful in specific situations, including instances when signage is displayed in a window only visible from the outside.
Super Quick Delivery
In the world of Real Estate, time is of the essence, and when a listing is ready the word needs to get out as soon as possible. When placing your order with SignsOnTheCheap, you will have multiple shipping options at checkout. When available, our fastest Air shipping option can have your signs in hand in two business days! No matter what shipping option you select, we aim to have all signage printed within a business day before being sent using the shipping method of your choice. Our goal is to print and ship your real estate sign as quickly as we can!
Fully Customizable
SignsOnTheCheap has a wide selection of premade real estate signage templates available for you to use. When designing your sign you can upload a design you have already created, fully edit one of our hundreds of templates, or even start from scratch. Uploading images and customizing text is a breeze in our online design tool! No matter which design route you take, our designer will give you the ability to create a sign that fits your individual needs, goals, and branding.
Installation and Care
We provide many signage display options that don't require complex assembly or tools. Our most popular sign display options are a post or metal frame. Both options are great for displaying a sign on the front lawn of a listing.
Metal frames require the least amount of assembly. A sign, preferably aluminum, can be slid into the appropriately sized metal frame before the frame legs are pressed into the ground. Signs can also be bolted into these frames for extra security.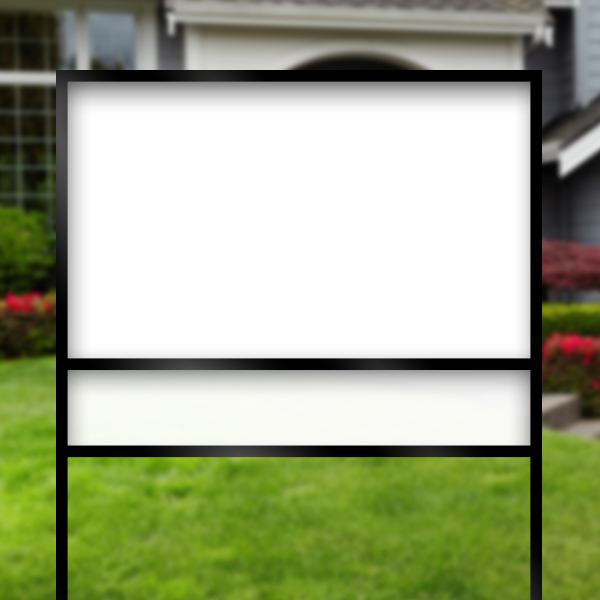 While metal posts require more assembly than a metal frame, these display methods can elevate the overall look of your signage. These are a great option for high end listings or any listing that you want to give a boost to! Assembly instructions for our posts are included in shipment, but they can also be found in the links below.
Colonial Post

 

Straight Arm Post

 
The materials offered on SignsOnTheCheap are low maintenance, but when they need a little touch up, it is best to gently wipe them down with a soft cloth and warm water.
Real Estate Sign Materials
Aluminum - Recommended!
Our most recommended (and popular) real estate signage material is aluminum. This material is long lasting, durable, professional, and is the widely used industry standard for signage. Use either our metal frames of metal posts to display these signs with minimal assembly required. Our two aluminum thicknesses, 0.040 (about the thickness of a dime) and 0.063 gives you options on durability and cost. All our aluminum signs have rounded corners for a professional look while keeping safety in mind. Regardless of which aluminum you select, your sign will be powder coated white and printed UV fade resistant ink to extend the lifetime of your sign. Aluminum signs will not rust over time like other metals.
Corrugated Plastic
SignsOnTheCheap's corrugated plastic signs offer an economical and less durable option for real estate signage. This material is most commonly used for temporary signage, and is a popular option for political campaigns that only use their signs for a short amount of time. Under most conditions, corrugated plastic signs can be reused for up to a year. This material is suitable for outdoor use and is printed with our fade resistant UV inks. Most choose to display corrugated plastic signs with wire stakes or a metal frame of the correct size. Additional benefits include their lightweight nature, easy transportability, and economical cost.
PVC
Recommended for INDOOR USE ONLY, our PVC provides a great option for any indoor advertising needs you may have. Our PVC material is 3mm thick, and has a smooth surface for a professional finish. PVC is best displayed in an easel frame of correct dimensions, or can be leaned against a wall.