Custom Bandit Signs
Bandit Signs - Get Your Message Out Quick!
Use SignsOnTheCheap's bandit signs to get your message out for an affordable price! Our bandit signs allow you to ensure your design is eye-catching and grabs as much attention as possible. Bandit signs are a great economical option for political campaigns, advertising your business, open houses, garage sales, sports and camp advertising and so much more.
About Our Bandit Signs
There are times that you may need a professionally made sign, but also don't need it very long term. Maybe you know that the sign will be taken down quickly, or it is for a temporary event, either way it is important you get the most bang for your buck! SignsOnTheCheap makes it easy to create temporary signs that won't break the bank.
Save More with Quantity Discounts
When it comes to bandit signs, the more signs out there to grab attention, the better! Whether you're posting signs on every street corner or strategically placing signs to hit your target audience, you don't want to have to worry about running out of signs. We offer quantity discounts on signs that share the same material, options, and design. Check out our pricing to see what quantity will work with your budget!
Bandit Sign Material - Corrugated Plastic
Bandit signs are traditionally printed on corrugated plastic. At SignsOnTheCheap we offer our 4mm corrugated plastic is a lightweight yet durable material that can be used outdoors in normal weather conditions. It is much less expensive than other materials which gives you the opportunity to buy larger quantities. Corrugated plastic is lightweight and easy to transport so you don't have to worry about heavy lifting while installing your bandit signs. To help minimize fading over time, our signs are printed with UV inks that are designed to stay vibrant even in direct sunlight.
Customize Your Bandit Sign To Your Needs
Whether you need signs for a short term promotional offer, sale of an investment property/foreclosure, political campaign, or roadside advertising, bandit signs help ensure maximum visibility by your target audience. SignsOnTheCheap offers full customization so you're sure your bandit signs get your message across. Our online design tool allows you to upload images, create custom text, and add clipart all in one place. If you're unsure where to start, check out our library of templates and modify it so it reflects your message and vision!
Quick Production and Quick Delivery!
Sometimes you need a lot of signs, and FAST! At SignsOnTheCheap, our goal is to print all orders within a business day of order placement. This way, depending on your shipping address, the only days you spend waiting for your signs are the days your order is in transit! Depending on your timeline, we offer a variety of shipping options at checkout. You can opt for our most economical Standard shipping which travels by ground to your address, or you can upgrade to Second or Next Day Air for super speedy delivery! Double check the "Get it by" date next to each shipping option to make sure the shipping method you select meets any deadlines you may have.
Bandit Sign Installation & Care
If you're ready to order some bandit signs of your own, but aren't sure how to care for them or get them displayed, read on! We have an economical display option for your signs and some quick tips to keep them looking great!
Displaying your Bandit Sign
The vast majority of bandit signs are printed on corrugated plastic,and we recommend ordering corrugated plastic for your bandit sign needs. This material provides the necessary durability to be outside while being at a lower price point. Corrugated plastic bandit signs are best displayed using our wire stakes. Wire stakes are low in cost and require little assembly. Simply slide the wire stakes into the corrugated plastic fluting before putting the stake into the ground!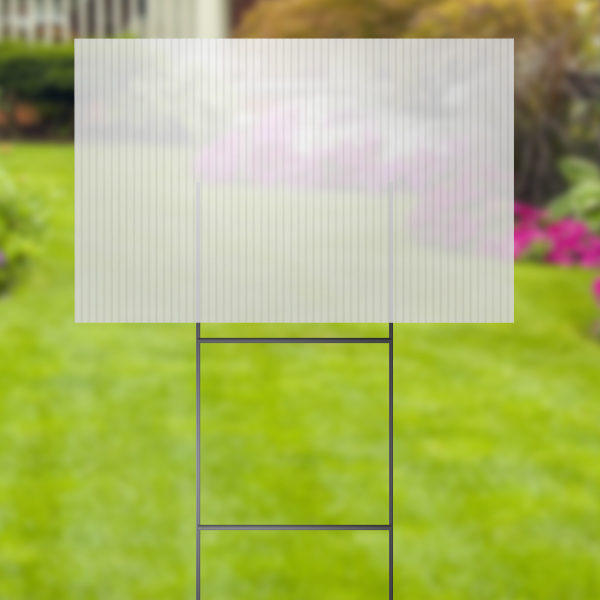 Caring for your Bandit Sign
Typically, most bandit signs require little to no maintenance due to their short term usage. However, if you find your sign is dirty, wipe it with a clean cloth and some lukewarm water. Do not use soaps or chemicals as they could damage the sign and your print.