Custom Sign Riders
Best Prices on Sign Riders
SignsOnTheCheap makes it easy to add some extra flair to your signage with the use of custom sign riders! Riders are a great companion to your real estate signage or advertising signs. Our custom sign riders look great in corrugated plastic or aluminum, and work best with a metal frame in conjunction with a large sign. In addition to our riders, we offer professional metal frames that can display your main sign and up to two riders!
Customize Your Full Color Rider
Perhaps you're looking to call out your real estate listings square footage, or you'd like to highlight a sale happening at your store… whatever the occasion, you can create a custom rider to match! Either start from scratch, upload your own design, or use one of our fully customizable templates to perfectly express your message. All of our riders are digitally printed with UV resistant inks to ensure great print quality and fade resistance over the lifetime of your sign.
Fast Printing and Fast Shipping!
Whether you're ordering one rider, or 100, SignsOnTheCheap strives to provide shipping options that fit your schedule. Upon checkout you will see shipping options with a variety of guaranteed delivery dates! Choose the option that meets your timeline and we'll get to work. Regardless of the ship method you select, we aim to have all orders printed and ready to ship the business day after they are placed. Once the production side of things are complete, we'll ship your order via the method selected at checkout. Ground shipping to Next Day Air, we offer it all!
Single Sided or Double Sided, The Choice is Yours
All of our custom sign riders have the option of being single sided or double sided! Double sided riders provide maximum visibility by ensuring folks can see your sign regardless of what direction they are approaching from. You'll see the option for single or double sided after completing your riders' design in our design tool.
Displaying Your Rider
You've got a sign and you've got a rider. How do you merge them together to create a next level signage? We recommend either our sturdy metal frames or a post. Metal frames are very durable, and can display one or two riders depending on your needs. Riders and signs easily slide into appropriately sized frames, and can optionally be bolted in for additional security. We offer a variety of posts that, depending on style, can accommodate one or two riders as well! Some posts allow for attachment of a rider on the post arm, while others will require the rider to hang below the main sign.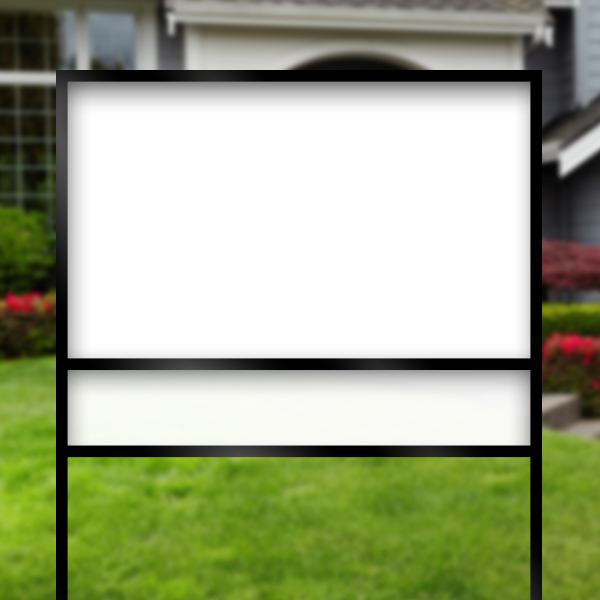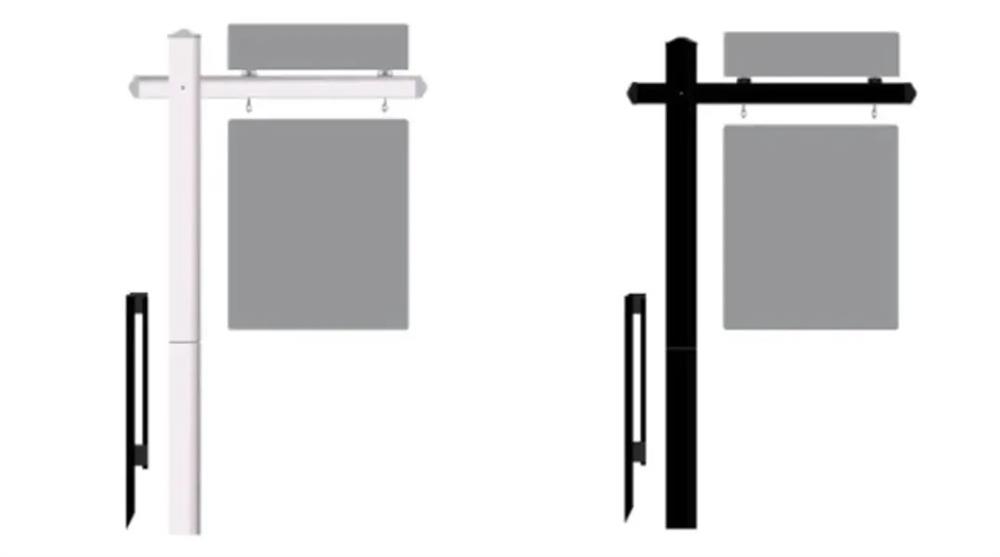 Cleaning and Care
Most riders will need little to no maintenance and only light cleaning throughout their lifespan. We recommend gently wiping off dirt and dust with a soft cloth and lukewarm water. No soap required, in fact we recommend avoiding any chemical based cleaners!
Material Information
Corrugated Plastic
SignsOnTheCheap's most affordable custom rider material option is our 4mm corrugated plastic. Typically, corrugated plastic signs will last up to a year with proper use and care. This is a great option for outdoor use, and leverages UV inks that help prevent fading in the sun. Corrugated plastic signs will work with both frames and posts of appropriate size. The lightweight nature of corrugated plastic makes these riders easy to transport and store.
Aluminum
Aluminum signage benefits from increased durability and lifespan when compared to other materials. Aluminum riders are ideal for pairing with aluminum signs that will be used multiple times. This material is inherently resistant to rusting, and is a great option for outdoor signage. Our 0.040 aluminum is just about as thick as a dime, and comes with rounded corners for a great sleek look and added safety. If you're looking for an even more robust sign, our 0.063 aluminum upgrade provides an even thicker and more rigid rider option while still enjoying rounded corners and rust resistance. Regardless of aluminum thickness, all our signs are printed with UV resistant inks so your rider's colors stay bright throughout its lifespan.
PVC
While we do not recommend PVC for outdoor use or most rider applications, it is available as a third option for custom sign riders. Our 3mm PVC material is best suited for indoor use, and will last longest when protected from the elements. PVC is smooth, and sophisticated and can be a great option for indoor signage needs and will look great when viewed up close.